award-winning landscaping & garden design
Landscape gardening Warwick - Landscape Gardening Leamington Spa
Our landscape gardeners offer award-winning garden design & landscaping which will create the garden or outdoor space of your dreams.
Our Landscape gardeners & garden design service cover the areas of  Warwick, Leamington Spa while being located near Warwickshire. Such areas are like in Warwick, Bridge End, Cliff Hill, Emscote, Woodloes Park, Myton, The Cape, The Percy, Warwick Gates, Chase Meadow and Myton Green. Such areas in and near Leamington Spa are Ashorne, Bishops Tachbrook, Bishops Itchington and Hampton In the Hill.
Our full garden transformations start from £10k for a small garden.
Soft landscaping and hard landscaping are just two examples of landscaping. Our skilled landscapers have a track record of designing beautiful and award-winning landscaping projects all around the Warwick and Leamington Spa area.
You are only 4 steps away from your landscaping project
1. Call us on 07884 093 117 or complete our consultation enquiry form.
2. One of our landscapers will arrange to visit your property, discuss your plans and measure up the area.
3. Within a few days you will receive a detailed quote.
4. When you are ready to proceed we will arrange a suitable start time.
hard landscaping & garden design
Hard landscaping most commonly refers to things such as patios, paths, driveways, drainage systems, electrics, fencing, decking, paving, steps, walls and feature soil retaining planters.
Hard landscaping projects maybe part a complete garden design project or possibly as one off work.
Hard landscaping comes in may shapes and forms and materials. Such examples of materials include gravel, bricks, rock, slate, concrete, timber, metals, asphalt and glass.
When differentiating between soft landscaping, hard landscaping is the bases for soft landscaping elements such as grass, plants, and vegetation.
soft landscaping & garden design
Working with natural materials and other landscape elements without the use of any structures is known as soft landscaping. This could include plants like grass, trees, hedges, shrubs, and so on.
Soft landscape materials naturally vary and develop through time as a result of development, environmental changes, and other factors. If the goal is to create an environment that is dynamic all year long, seasonal elements may be a crucial factor to consider while designing soft landscapes.
Plans for soft landscapes can include organic shapes that are emphasised by vibrant flora and grassy textures or more structured, artificially formal designs..
Our soft landscaping services include things like:
Decorative gravel / bark chip areas
Feature soil retaining planters / walls
In a garden, hard and soft landscaping components frequently coexist. As an illustration of a hard landscaping element, sleepers may be used to make a garden in order to create a flower bed. Then a soft landscaping feature like flowers and earth are added to it.
To support our Warwick and Leamington Spa landscaping services you can read about our  garden planting schemes and our garden maintenance from these page links.
---
our Warwick & Leamington Spa landscaping services
Our landscaping work includes:
Maintaining show home gardens for high profile national housebuilders
Private domestic & commercial work
We are expert installers of natural stone and porcelain paving and are an artificial grass recommended installer for Grass Direct.
For real grass laying we can also provide Rolawn and Teal turf lawns.
We are also landscape gardeners for other areas near Warwickshire , just click the links to Solihull landscaping and Stratford upon Avon landscape gardening be directed to them.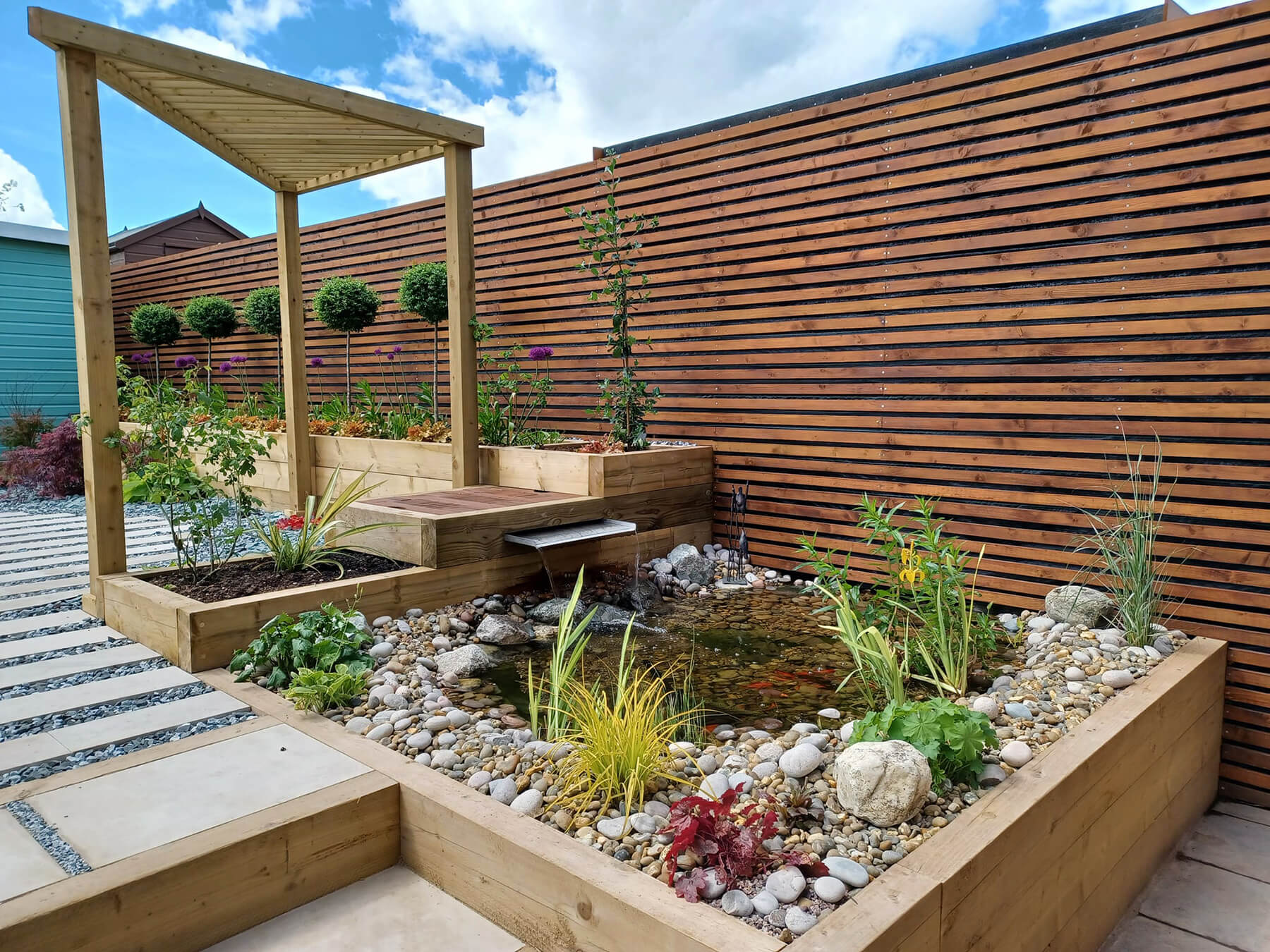 ---
---
landscape gardening & beyond
If you want to transform your garden into the one you have always dreamt of, we can do it.
However our landscape gardening may be required for many other projects like:
A home office & studio is a lovely place to work surrounded by the natural elements
Maybe you need your soil levelling or you have a drainage problem left by housebuilders
Garden rooms are a great place to sit & relax