award-winning landscape gardeners
Landscape Gardeners for Solihull, Warwick, Leamington Spa and Stratford upon Avon
Award-winning landscape gardeners for Warwickshire, Leicestershire, Northamptonshire, Oxfordshire, Buckinghamshire & The Cotswolds.
At Gardens of Distinction we have created award-winning landscaping projects, are you ready to see how our landscape gardeners can take your garden to the next level?
Full garden transformations from £10k for a small garden transformation.
Landscaping covers so many things from soft landscaping to hard landscaping. We at Gardens of Distinction have excellent experience in both so whatever you want your garden to be we can do.
Do you want to obscure unsightly objects and provide privacy from your neighbours overlooking windows? Supplying and installing contemporary slatted strip fencing/trellis screening or pleached trees for a modern look to your garden can be one answer.
Hard landscaping most commonly refers to things such as paths, driveways, drainage systems, electrics, fencing, decking, patios, paving, steps, walls and feature soil retaining planters.
There is a lot of choice of hard landscaping materials available when it comes to designing an outdoor space. Commonly used materials include brick, gravel, rock, concrete, asphalt, timber, metals, and even glass.
These elements then are the bases for soft landscaping elements such as grass, plants, and vegetation.
Soft landscaping elements are generally decorative additions to an outdoor space. Or it can be referred to as the greenery that makes them so nice to relax.
When the term soft landscaping is used it is often describing elements such as trees, shrubs, turf, mulch and soil but is not limited to these.
Our skilled landscape gardeners can implement a variety of planting schemes, which include sensory and wildlife-friendly plants.
Our soft landscaping services include things like:
Decorative gravel / bark chip areas
Feature soil retaining planters / walls
Hard landscaping and soft landscaping elements usually go together in a garden. For example, a garden may be created with sleepers to create a flower bed, which is a hard landscaping feature. Then the flowers and soil that are placed into it which is a soft landscaping element.
You can read more information about our garden planting schemes and our garden maintenance on our website.
---
our landscape gardening services
Our landscape gardeners work includes:
Maintaining show home gardens for high profile national housebuilders
Private domestic & commercial work
We install natural stone and porcelain paving and are an artificial grass recommended installer for Grass Direct.
If you want real grass we can also provide Rolawn and Teal turf lawns.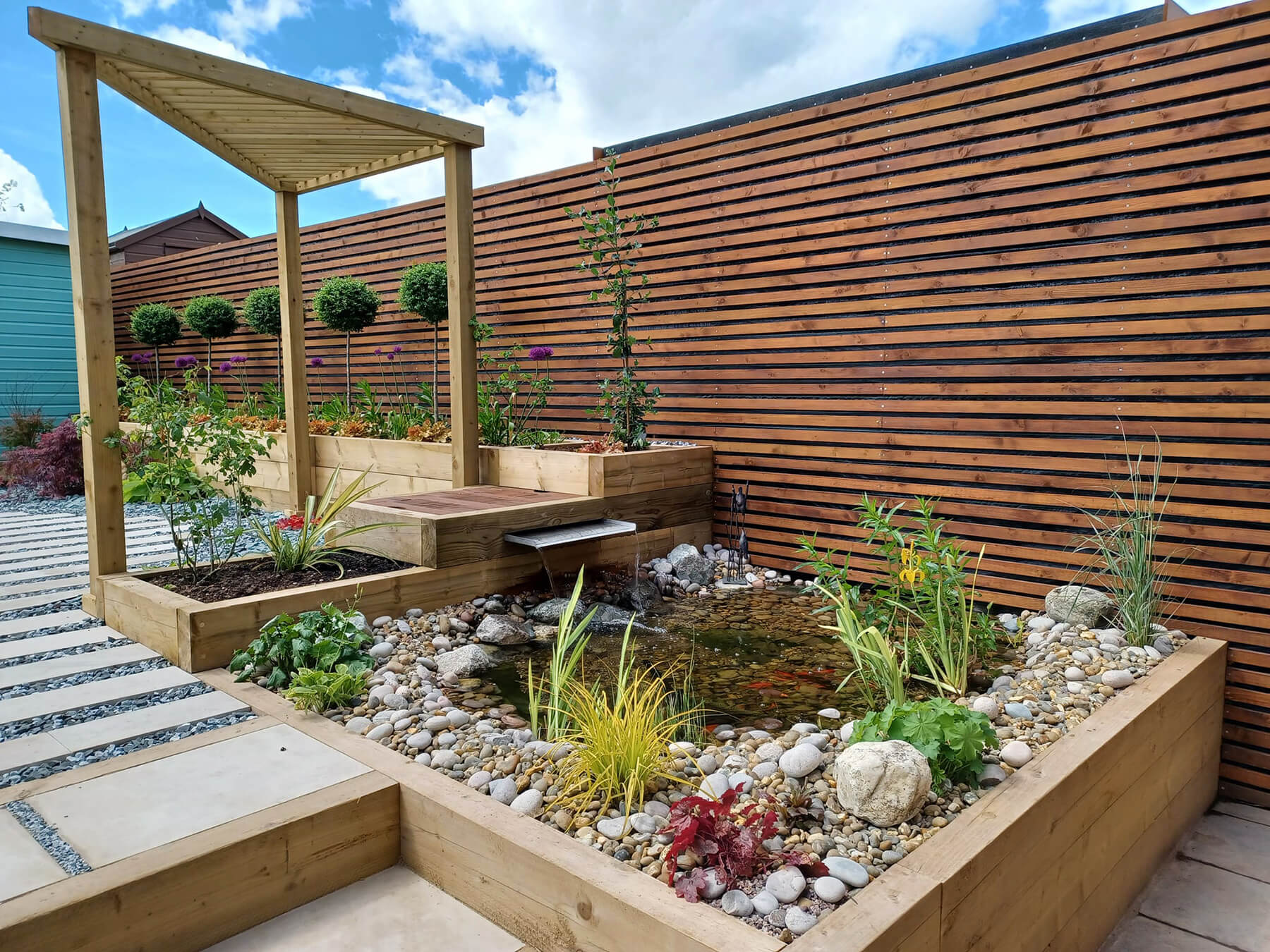 ---
---
landscape gardening & beyond
If you want to transform your garden into the one you have always dreamt of, we can do it.
Garden rooms are a great place to sit & relax
A home office & studio is a lovely place to work surrounded by the natural elements
Maybe you need your soil levelling or you have a drainage problem left by housebuilders